Targeting the Number Nine: Episode 3 with Kartik Krishnaiyer (Miami FC)
The No.9 in soccer traditionally has a job to do. Score goals and change the game.  For NISA Nation's first interview series, we will focus on the Number Nine – the game changers ahead of NISA's debut.  These are the game changers who have helped NISA to get up on its feet and made it possible for the players to play and represent communities across the NISA Nation.
In this series, NISA Nation readers will get responses to nine questions – and not a False Nine – to get a deeper insight into people who have brought NISA to life.  Consistently, you will see a tremendous care for soccer and seeing it in communities.
Previous interviews in this series have been with NISA Commissioner John Prutch and Ron Gilmore, VP of Soccer Operations for the California United Strikers.
The third interview in NISA Nation's Number 9 series is with Kartik Krishnaiyer, Media Relations with The Miami Football Club.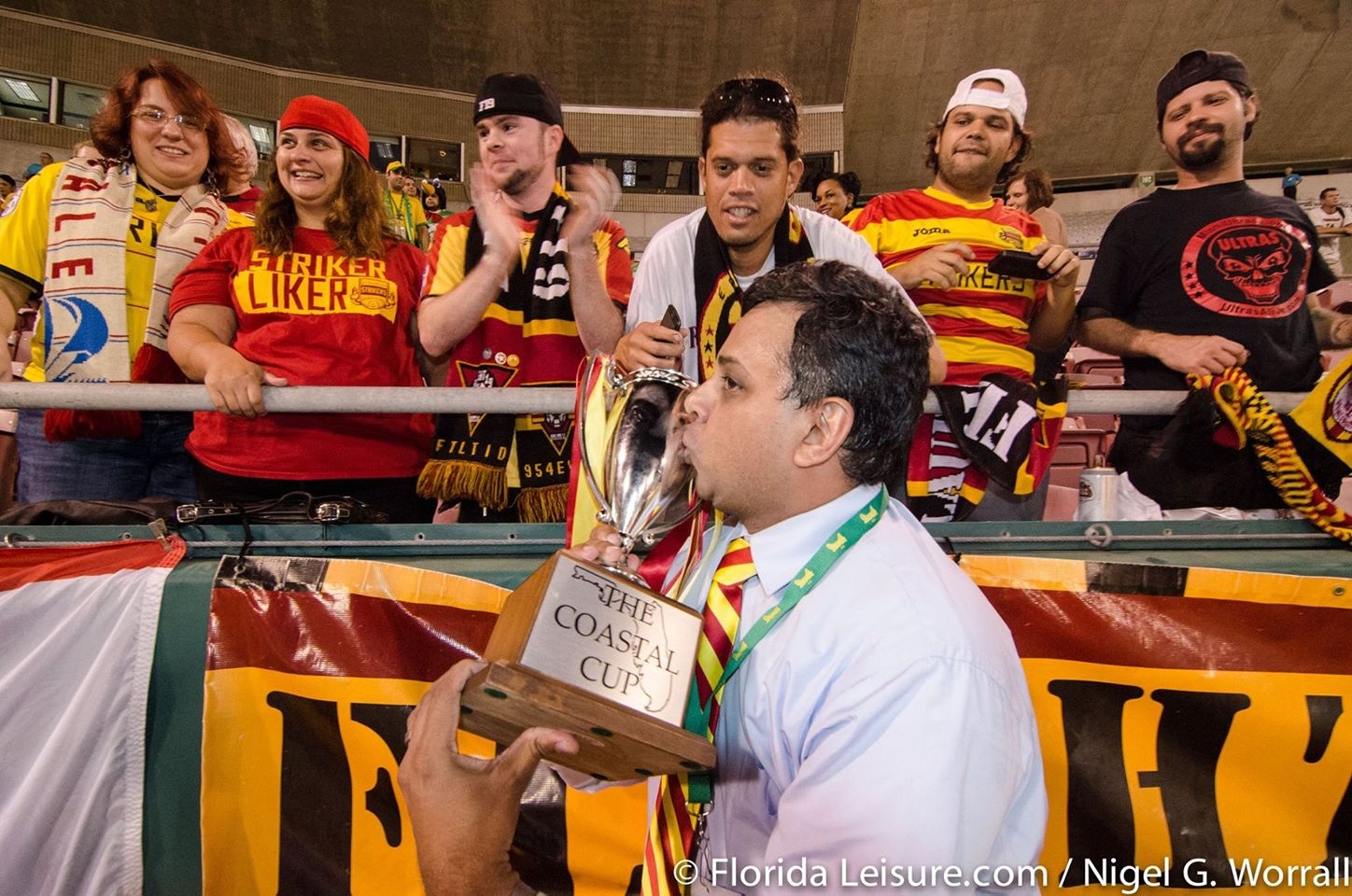 Former Communications Director for the North American Soccer League and Fort Lauderdale Strikers, Kartik currently serves in the same role with Miami FC. Has also written two books about soccer and has hosted or co-hosted various podcasts about the beautiful game. Prior to working in soccer, Kartik worked in Florida politics and as a government relations specialist.
1. How did you start working in professional soccer?
KK: I had been blogging and writing about the sport as a media member for sometime when Miami FC (the former one in USL that eventually became the Fort Lauderdale Strikers) brought me in-house in early 2009. From there I have worked on and off but more on in the sport since then.
2. What is your best soccer memory?
KK: John O'Brien's goal against  Portugal  in the 2002 World Cup. It was the wee hours of the morning stateside and I woke up half the neighborhood. It was a cheer of relief- I had never been as down on the US men's program until 2017 as I was in late 2001 and 2002. We finished the Hex terribly, barely qualifying and friendlies leading into Korea/Japan were awful. Then suddenly, a switch got turned on just minutes into the match and BOOM! we're on our way to the Quarterfinals.
3. Who is your favorite player that you've seen live?
KK: I got to see Beckenbauer as a ball boy for the original Fort Lauderdale Strikers when we played the Cosmos at Lockhart in 1983. I actually handed him the ball which even at that time, I was only eight was an amazing thrill. But in the modern era, myself as an adult I'd have to say watching Leroy Sane for Schalke against Leverkusen in 2015 when I visited the Bay Arena. I was hoping Manchester City would buy Sane, and sure enough they did!
4. What were your expectations for NISA before the Showcase started?
KK: My expectations were that we'd have a collection of independent clubs competing against each other. I thought it would look like NPSL, UPSL or PDL but honestly it has been better than that!  I think the league has great potential and is an important element in developing a club-centric culture in the United States. The league's approach to club independence and developing academies at its clubs is refreshing and the direction the sport needs to go in North America in my opinion.
5. What has surprised you the most about NISA so far?
KK: The level of play is quite good. Matches are open and quite frankly more entertaining than the cagey affairs we had in the NASL. I wouldn't say the quality is better, I often chide American fans for confusing quality and entertainment. But it has been super entertaining and the quality has been good enough. We've seen some outstanding technical play and some spectacular goals. Defending like much of American soccer needs improvement, but heck that's the same story as MLS, where the 5-3 matches are often stories of comical defensive errors as much as the brilliance of Carlos Vela or others.
6. With the Miami FC fan base used to winning trophies, how does the #QuestforNine hashtag resonate among your club's supporters?
KK: Our supporters are accustomed to winning and since we've set such a high standard that we must continue to meet, the hashtag and its usage just comes naturally. We're always chasing the next trophy at this club.
7. Is there another city or community you would personally like to see have an expansion club in NISA?
KK: West Palm Beach! While pro soccer in south Florida has always been in Fort Lauderdale or Miami, I believe Palm Beach County has as many soccer fans and soccer infrastructure as the counties directly south. I believe all three counties can support professional teams. I live in Broward which is the Fort Lauderdale area but have historically driven anywhere from Orlando to Homestead to watch live soccer. We have Miami FC representing Miami-Dade County and Inter Miami CF of MLS representing Fort Lauderdale and Broward. It would be wonderful to have a Palm Beach County-based professional team. For what it is worth, Palm Beach County has among the highest TV ratings for the Premier League and US Men's National Team in the country.
8. What do readers of your work have to look to forward to in the near future?  Are you working on any new books and is there a "Blue With Envy 2: The Trophy Years" in the pipeline?
KK: I'm currently working on a long overdue manuscript about a topic in Indian history but then plan to do something English football related again. It might be a sequel to Blue with Envy or might be a journey around smaller clubs. I have not decided yet.
9. Miami FC will be playing in the NISA Showcase East Coast Championship against Stumptown Athletic on November 9th.  What can fans and viewers of that match expect to see?
KK: We're working very hard at Miami FC to deliver an incredible experience for our fans and those visiting from other areas for this title match. Being back home at Riccardo Silva Stadium means we will be able to create a unique atmosphere. I was responsible for communications in NASL's first two title games, one in Fort Lauderdale and the next in the Tampa Bay area. In both cases we created a unique atmosphere for a new league and were able to draw in local fans and media.
 We will seek to replicate that setup which I believe was quite professional and fan-friendly. Add to that two excellent teams and we'll have a great match. I have been to a title match where Mark Steffens managed a Charlotte team (against Orlando in USL). He's a great coach and has gotten this Stumptown Athletic team playing at a very high level. He's one of the best long-term lower division coaches around. On our side, we've got Paul Dalglish whose track record of winning speaks for itself. With great players like Michael Binns and Dylan Mares among others, this will be a cannot miss match for those in the area who like good entertaining football with a trophy on the line!