What is the NISA Independent Cup?
By NISA Nation Staff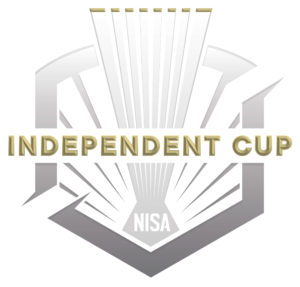 The "I" in NISA stands for independent. It is a guiding principle for everyone working in NISA that our clubs represent the top tier of independent clubs and represent growing an open system.  But what about clubs that may not meet mandated standards yet to compete in that top tier – do we represent them as well?  Many of these clubs share our values, believe in independent soccer and have similar goals to raise the sport of soccer in their community that mirror how NISA clubs are growing the game in our collective backyards.
As part of an overall league strategy, NISA has always wanted to find ways of uniting independent clubs of every size. To be transparent, we wanted to get a season or two under our belts of growing the "first division" of NISA and concentrate our focus there. Then COVID-19 happened. While the current pandemic curtailed NISA's spring season, it also presented the league with an opportunity to pivot and move our timeline up for ideas like the NISA Independent Cup.  What was once a part of NISA's five-year plan was fast-tracked to be a first attempt to get some of our clubs back on the pitch.
First of its kind
The Independent Cup touches on a lot of NISA's ideals as a league. Clubs are heavily involved in decision-making for their region collaborating on things like the region's format and schedule. Opportunity should not be restricted solely due to financial metrics, but on creating more opportunity for more places on the map. We want to clear pathways for more amateur players and clubs to be able to see professional soccer as a real possibility and well within their line of sight. NISA is built on ideals like these and the Independent Cup is a manifestation of them.  This Cup is the first of its kind giving independent clubs at all levels a tournament to call their own.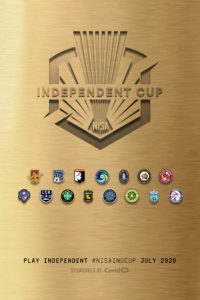 Ten Facts About the Independent Cup
(1) If we could not do this safely, we would not do it.  Working with doctors and being part of multiple COVID-19 task forces across the soccer landscape, the approach to this tournament has prioritized participant safety above everything else.
(2) Not all of our NISA clubs are taking part. The complexities in some regions made the possibility of hosting games very challenging to see a path forward. It was not for a lack of trying. Other regions were able to make it work.
(3) This will be the first annual Independent Cup.  The format this year is heavily influenced by the pandemic but with the number of clubs that have already expressed interest for 2021, we hope that future versions will be free of COVID's influence and judging from the initial feedback we have received, we know it will feature some of the best soccer clubs in independent soccer.
(4) The format is somewhat unique in each region this year and was determined by each region's participating clubs. Boyds, Maryland (28.5 miles north of D.C.) is hosting four clubs in the East Coast region.  Fans of Detroit City will harken back to previous Rust Belt derbies when FC Buffalo and a team representing Cleveland would come to Keyworth. The DFW Metroplex, Mississippi and Louisiana are three places NISA is thrilled to add to our footprint and the Southeast will see Chattanooga and three of the South's strongest clubs outside of NISA compete.  Plus there are a couple of neutral site games that will play a role in determining a couple of regional champions in this tournament.
The participants in the four regions are:
Great Lakes: Detroit City FC, FC Buffalo, Cleveland SC
Central Plains: Lone Star Republic, Revolution SC, Louisiana Krewe, GAFFA FC
Southeast: Chattanooga FC, Savannah Clovers, Soda City FC, Georgia Revolution
Mid-Atlantic: New York Cosmos, New Amsterdam FC, Maryland Bobcats, FC Baltimore Christos
(5) Games will take place throughout July starting on July 11th starting with two matches in the Southeast Region.
(6) As you have likely noticed, this year the tournament is taking place in regions and each region will crown a winner. The goal for 2021 and beyond is to have regional champions meet in a national tournament and create a tradition for supporters of all independent clubs to look forward to.
(7) The NISA Independent Cup is one of three trophies that NISA clubs will compete for in future years. NISA clubs will have a chance to win a league title and win the U.S. Open Cup. It's a chance for our NISA clubs to play for a treble and add some hardware.
(8) Clubs who are interested in receiving information about next year's Independent Cup can reach out via the NISA website https://nisasoccer.com/independent-cup for more information about the tournament.
(9) If you haven't had a chance yet, check out this video celebrating the fifteen combatants taking part in the Independent Cup.
(10) Players are already in training and from a NISA perspective, we are excited to create a new tradition. It may not be how we originally envisioned it happening but the timing of it we won't ever forget. Adding a new opportunity for independent clubs of all sizes to prove themselves on the pitch is what this tournament is all about.  #NISAIndCup