Allentown United FC
By Alexa Doebler
This week, we dive into Allentown United FC as we hear from Founder and President of the Club Emmanuel Ntow-Mensah. Ntow-Mensah tells us of the origins of Allentown United FC, or as it is often referred to, 'The People's Club'.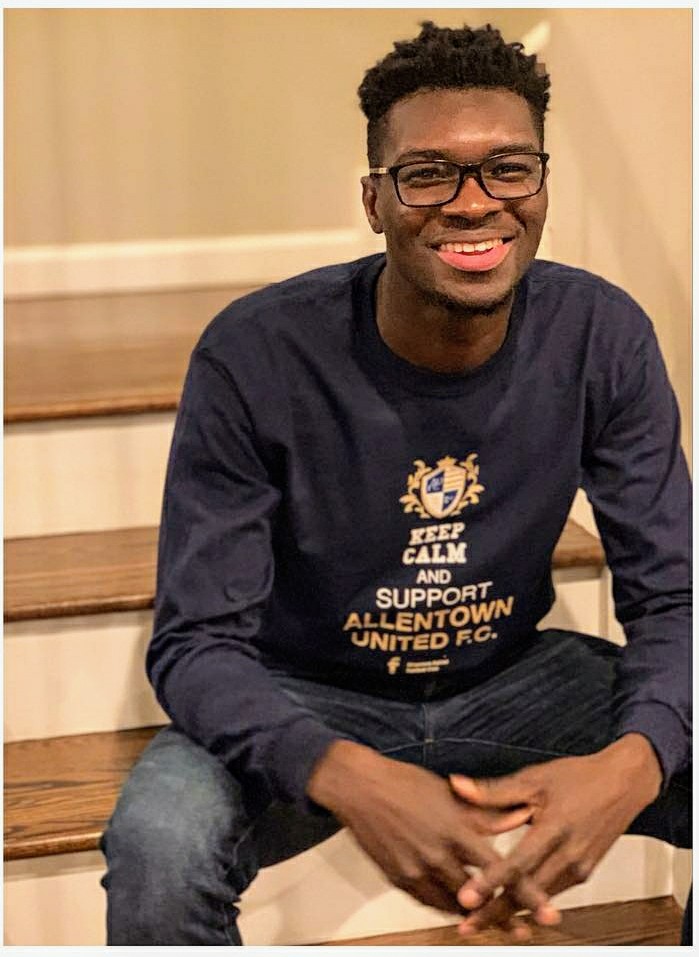 Ntow-Mensah moved to Pennsylvania for a wealth management operations job and noticed the soccer scene in the area felt lacking.  As a former college player, while finance may be his profession, soccer is really his passion.  While talking, we joke of how many 9-to-5 finance guys might just find a pick-up team to add soccer to their lives, the self- proclaimed humanitarian can't help but want to make a difference.
"I'm originally from New Jersey. I moved to Pennsylvania about 5 years ago. And when I first moved here, I didn't really see much of a scene for soccer at all here. I got involved with my nephew's soccer team. I started coaching them and then I started thinking, 'Ok, so these guys are going to play until they're 18 and then what's next for them?'
"And at the same time, I also started playing pick up through a work friend of mine and I'm looking at these guys like, 'Wow, you're really good! How come you're not playing professionally somewhere or in college?' And the consensus among all of them was that there just wasn't an opportunity for that in this area. They weren't getting looked at, they were not getting seen.  So I came home and I took it upon myself to develop a club or a team that was for them, to showcase their talents and get them to that next level, whether that be professionally or playing in college, I wanted this club to be that incubator that allowed that to happen for them. This was in 2018. And that's how the club was born."
The club, Allentown United FC became known quickly as 'The People's Club' and Ntow-Mensah explains why they chose that as their informal name.
"'The People's Club' really came from when my partner and I started this team. I created this club for the locals of the Lehigh Valley here in Pennsylvania. It's a club created by locals for locals. We are definitely a community club. So, we are, in fact, 'The People's Club'. We're everyone's club. And we are a proper family here as well. We have people from essentially all over the US as players now, as well as some international players. So everyone is coming here and becoming a part of this family, becoming part of the people of the community. And that's why we go by 'The People's Club'.
"Another part of why we are 'The People's Club' is that I'm a very humanitarian type of person, I want to really get involved in the community and help out and do every bit that I can. And so I really wanted to instill that culture into the club as well. We have done quite a few community engagement initiatives."
The list of ways that the club has given back to their community is quite long, especially given the short amount of time the club has been around.
"The first one we did, we hosted a tournament during our first full season in 2019. At that tournament we collected sports goods.  We donated some of that to the Boys & Girls Club in Allentown and then the rest we donated to a nonprofit organization soccer club in Kenya.
"Additionally, through our connection with the Boys & Girls Club, we ran a clinic, where we taught the kids there how to play soccer, taught them a few things. They had so much fun. And at the end, we had our players play with them and that was just a lot of fun.
"From there we got connected with Habitat for Humanity. Over the summer, we did a rebuild where we helped build a house for a less fortunate family. One game, we collected canned goods and delivered those to the local food bank around the holidays. Whatever we can do to help the community, we're all about it."
Their most recent community outreach came during the pandemic just last year.
"Then there was Pizza for Heroes. That was fantastic. We partnered with a couple local ladies in the Lehigh Valley. They reached out to us and we said, 'Yes! We're down to help.' We used our platform to get more donations to help our local healthcare heroes, which was amazing and hit close to home for me with various nurses and healthcare workers in my family."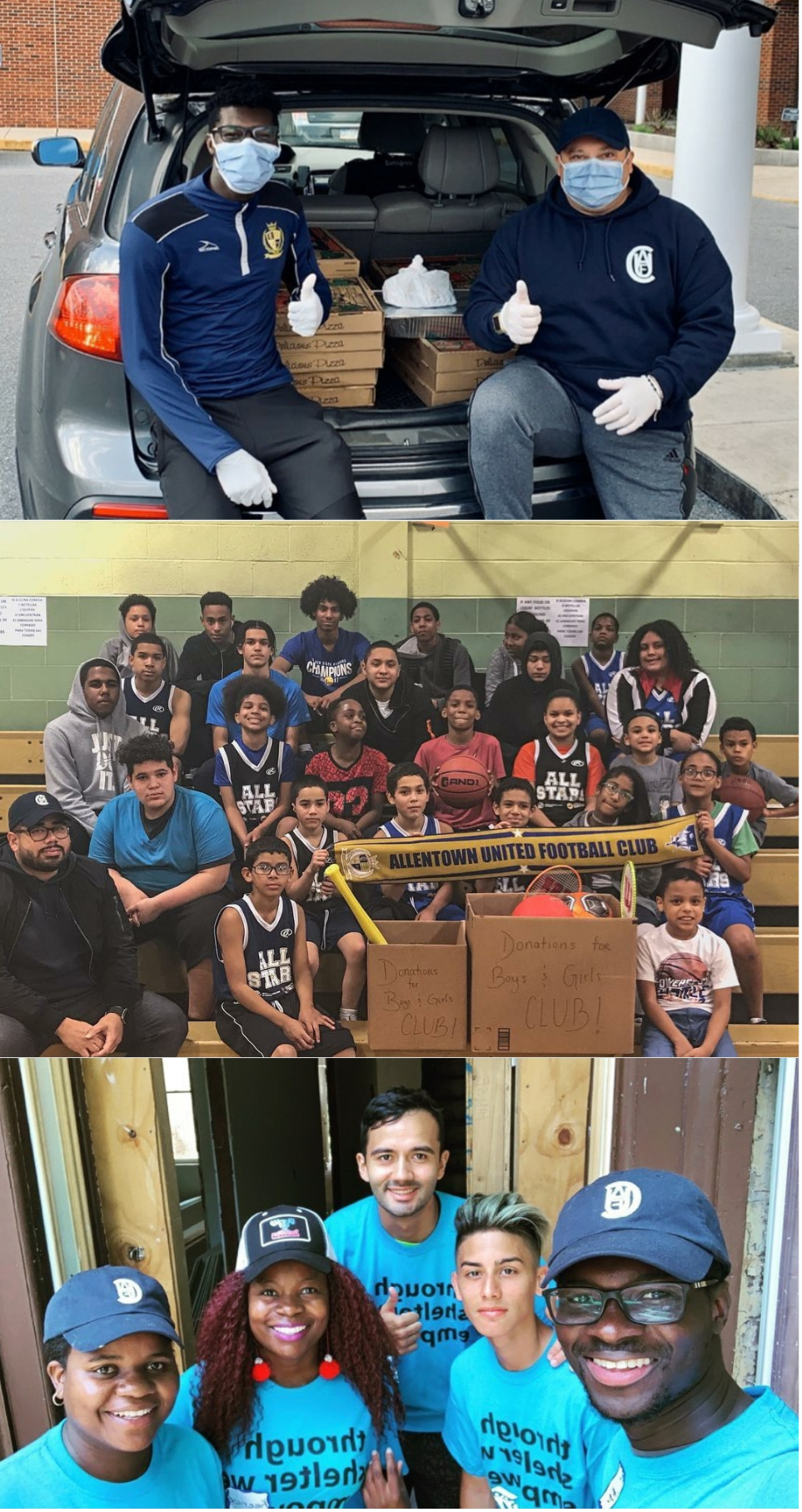 Reaching out to the community doesn't just happen in the humanitarian realm. The club has a large presence in the youth soccer scene in the area as well.
"Another thing we have as a continuous outreach going on all year is that about 60% of our players work as soccer trainers for the youth teams. Our captain Matt Baker  runs a soccer program here, so pretty much all of our players work with him to coach and train players, to help teach them the game, to help develop them.  And it's fun. Lots of the young players recognize our players, like, "Oh, you play for Allentown!'
"Right now, we're building a lot of partnerships with local youth clubs to funnel into our system. Next for us, we are looking to build out a proper academy, an Allentown United Academy. Where we help incubate these young players and develop them for the first team."
And plans for expanding the club don't stop there.
"On the other front, as they [players] get older, we are looking at expanding down to a U-20 team for this summer. We already have a U-23 team that plays in the UPSL. Then we have our first team. The first team is taking some time away from League Play this summer to do a couple tournaments like the NISA Independent Cup. And then we are preparing since we were invited to play in NISA Nation starting in the Fall. We are very excited about that. And we'll see where that goes. What we're ultimately looking to do is to reach that professional standard. So this is going to be a good incubator for us to see if that is something we can attain here. We know we have the market for it, we know we have the talent for it. We've played teams like New Amsterdam and we've played players from the Maryland Bobcats, so we know we have the standard to maintain that. So we're just looking for the opportunity to jump to that rank. And give the Lehigh Valley a new professional team to root for."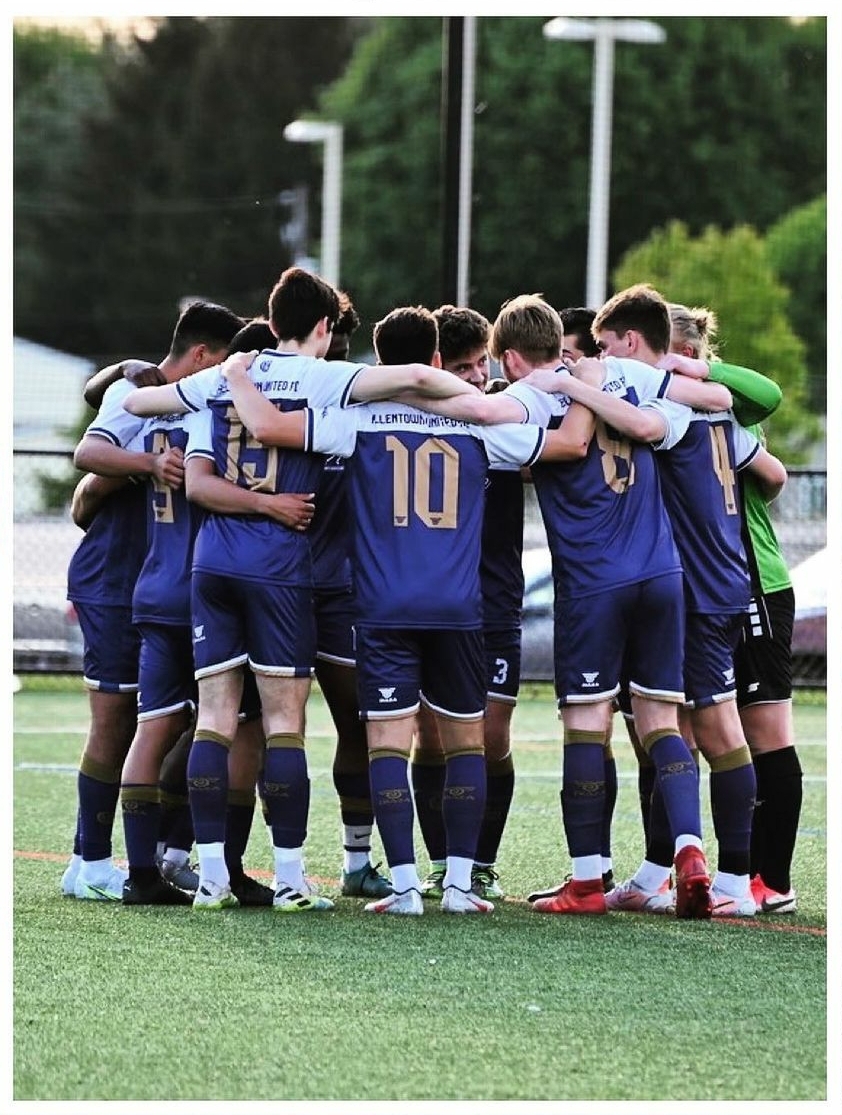 And the club's goals for their future aren't the only impressive list that the club has to tout. In just a couple years, the club has reached some pretty great milestones for a young club.
"There are at least 3 big milestones for our club that I can think of right now. The first would be finishing in 3rd place and getting to the playoff semi-final in our second season of the UPSL in our conference. That was very big. We had a fantastic season last fall and we made a pretty decent run. We garnered a lot more respect and a lot more attention through that season.
"The second would be sending 3 of our players to professional teams for trials. We sent 1 person to North Carolina FC, on trial for about a week. Unfortunately he wasn't offered the contract, but he's back with us and he's still exploring other opportunities that are coming up for him. We have 2 players that went out to Mexico who are playing for a Division II League. So that's fantastic.
"And then the third would be NISA and NISA Nation. I think it is fantastic to be invited to such a big tournament. As a growing club we definitely do have aspirations of going into the professional ranks. And this is the first step towards that. If we perform well and we are professionally run, investors will see and may take notice and help us get to that standard that we want to reach. And also it will help our players as well."
As talk shifts to the NISA Independent Cup, Ntow-Mensah says the whole team is excited for the opportunity to be a part of it.
"Everyone is buzzing! I think it's just the standard of the league. NISA has just done a fantastic job of marketing themselves and growing as a League and I think the product that they offer is just massive. So that's why we're just so excited. We're excited for the whole nation to see the talent that we can develop here in the Lehigh Valley. We're also very excited to play the Maryland Bobcats in an official game. That will be a lot of fun. We're just excited about the prospects of bringing the high standards of soccer to our region."
Emmanuel Ntow-Mensah truly cares about this club, the way it represents the region and specifically the Lehigh Valley, and the way it has lived up to the moniker 'The People's Club' by reaching out into the community in such a positive way.
"It's crazy because when I started this, it was sort of just for fun. You know, we did a lot of things, had games and went to games. But now that we're expanding, adding more teams, adding more competitions, it's definitely becoming more consuming. But it's great because I still enjoy it and it's still fun. And in the long run, this is probably what I'd love to do versus a true 9 to 5."
Catch Allentown United FC taking on Maryland Bobcats tomorrow (July 17) at 7PM EST.