AC Syracuse , Featured , Latest News
International Game, International Community: NISA Helps AC Syracuse Pulse Owner Samir Belhseine Affect Change in Morocco
By Sebastian Johnson
Odds are, the next person that passes you on the street knows next to nothing about Morocco. Were you to stop them and force a Moroccan pop quiz, you're not likely to get much – perhaps a half hearted attempt at a Casablanca quote.
They'll likely know nothing of the nation's natural beauty. They'll likely know nothing of the 37 million people that live in the small, North African country, or how their position sandwiched between the Sahara Desert and the Atlantic Ocean continues to affect their lives on a daily basis. Most unfortunately, they will probably know nothing of the endemic socio-political issues plaguing the nation and its citizens to this very day.
It was with this in mind that AC Syracuse Pulse owner, and native Moroccan, Samir Belhseine led a NISA-backed humanitarian trip to the city of Laayoune.
"I am originally from Morocco," says Belhseine. "By the time I was nine, I was playing for a big first division team there – Raja Casablanca."
He recalls how he was forced to leave his soccer dream behind when he left for the United States – one of many sacrifices he had to make as the first person in his family to move to America. Behlseine sees this trip as an opportunity to give back, to help today's Moroccan youth accomplish their dreams right at home.
"The purpose of our trip was three fold," says NISA Executive Vice President of Expansion Josh Prutch, who accompanied Belhseine. "First was to establish AC Syracuse Pulse's sister academy in Laayoune. Second was to provide educational opportunities for Laayoune's youth, and third was to work with Syracuse area doctors to establish humanitarian medical needs."
These three "goals," if you will, were chosen to maximize the positive impact Belhseine and NISA could accomplish for the citizens of Laayoune. The UN formally recognizes poverty as one of the major issues Morocco faces, and nowhere is that more clear than Laayoune.
The city of just over 200,000 people is situated on the eastern edge of the massive Sahara Desert (the third largest desert in the world, and the largest non-polar desert), making it incredibly drought prone in a nation where even the most fertile lands can face months long droughts.
This serves only to exacerbate the issues Laayoune already faces and present it as one of the prime locations that could benefit from international humanitarian assistance.
The presence of long-standing humanitarian assistance was one of the things that helped attract Belhseine. Prior to Morocco gaining independence from France in 1956, Laayoune was the capital of Western Sahara, one of the many regions France had cut the area into. It's location just eight miles from the Atlantic Ocean made it an important waypoint and oasis for France's many expeditions deeper into Africa. This history between colonial and non-colonial powers has created a lasting interest in the region.
Of the three purposes of the trip, the first two are heavily intertwined. The sister academy, known by the same name as the original academy in Syracuse, NY, – AC Syracuse Pulse Youth Academy – will act as a powerful force in the community for both academic and athletic purposes. Classes offered to youth will blend athletics with academics, allowing for optimal use of the hundreds of school books, school supplies, soccer uniforms, soccer balls, and training equipment Belhseine and NISA have donated.
Furthermore, the academy is being created in conjunction with a regional soccer league, that of Laayoune Sakia el Hamra. This will allow for greater reach, learning and international development.
"As a proud Moroccan and U.S. citizen, I am humbled and happy to be here," said Belhseine at an event during the trip. "The opportunities for youth go far beyond the game, as young players learn sportsmanship, teamwork, and strength, and build character."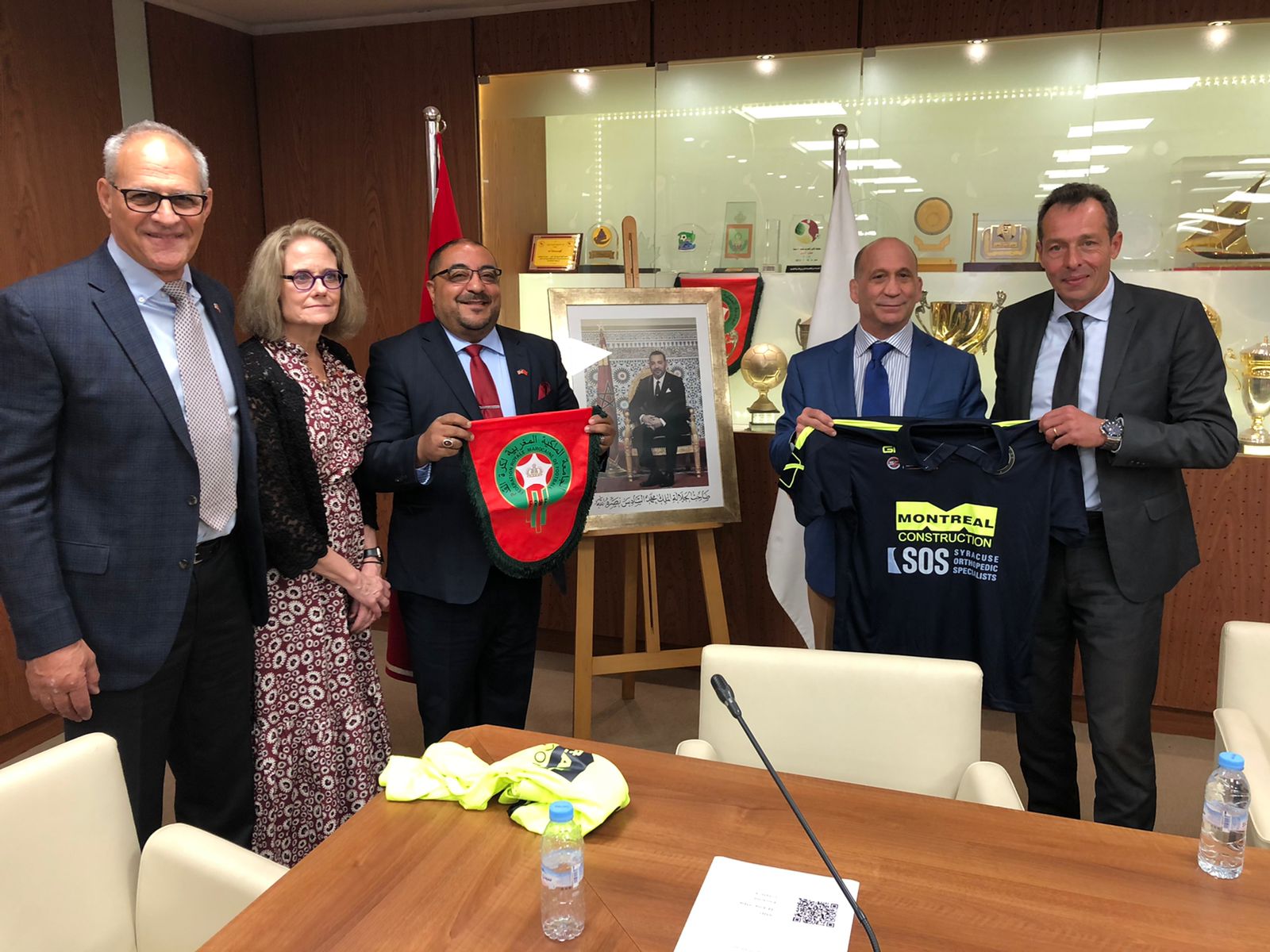 The third purpose, that of medical humanitarianism, was done in conjunction with medical professionals from Operation Walk New York and Syracuse Orthopedic Specialists (SOS). While they did offer low-level medical procedures on this trip, the true purpose was to identify possible orthopedic surgery patients for a second humanitarian trip in 2022.
In addition to identifying possible patients for a future medical trip, the doctors from SOS have been administering minor orthopedic procedures to those with an identifiable and immediate need. Most of these procedures have come in the form of cortisone shots, but doctors have also been supplying walkers and other assistive devices.
"The reason I'm here is to provide joint replacements – both knee and hip – for patients needing it in Laayoune," says Dr. Seth Greenky. "The service is free… and it's provided to people that can't afford to pay for it." More: https://www.youtube.com/watch?v=Zof__8bU-hw&t=248s
Samir Behlseine and his colleagues are a shining example of what an ownership group can be. It has the power to affect positive change on local, national and international levels. With NISA continuing to back him as it has, there is no limit to the good they can accomplish.