Ten Reasons NISA Is Different
By NISA Nation Staff
For a start-up to succeed, it usually comes down to two critical things:
(1) Identifying a gap in the marketplace.
(2) Filling that gap with a needed good or service.
Whether it is unveiling a new app, opening of a new store, or launching a new professional soccer league the objective is the same. Identify that gap and fill it.
With this in mind, let's look at ten ways in which NISA will differentiate itself across the current American soccer landscape.
1. Any community can have pro soccer
Soccer is a sport of inclusion.
NISA needs to work with the United States Soccer Federation's professional league standards in order to be a sanctioned professional league. However, one of NISA's aims is to reduce barriers to professional soccer. If people want to bring a professional club to a community, then NISA wants to make that happen. Rather than expansion slots being determined by expansion checks, corporate head offices, public financing, or business metrics, NISA's door is open to communities, clubs, and investors of all shapes and sizes. Every community that wants it, should have a pathway to professional soccer.
In the United States, only one top tier ("Big Five") professional sports team is based outside of the largest 50 metropolitan areas. About 160 million people live outside of those 50 cities (thanks to Brian Costin for the information) and live in markets where professional soccer should have the opportunity to thrive. It's one way that the potential of professional soccer can be reached in this country.
2. Franchises move, clubs don't
A couple of state capitals went through some drama recently determining where a franchise was going to play.  While the club in question did not wind up relocating, the long-term implication is now more clear than ever. If a franchise is not happy in their current market, they can simply leverage a relocation opportunity to get their demands. This phenomenon has repeatedly played out in American professional sports and now it is clear that American soccer franchises will try to use the same playbook in the American relocation game.
When a system is built upon inclusion, free of territorial rights and no caps on the number of franchises, then there is an enormously reduced opportunity for clubs to hold communities hostage for publicly financed venues. Creating or building a club is about representing a community and can be a point of pride for local investors, players, and, most importantly, supporters.
3. More Rivalries, More Passion
The best rivalries in soccer have an element of familiarity to them.  Based in the same city and sometimes even in the same neighborhood, clubs often divide sections of town. There is nothing quite like showing up for work on a Monday after your team has beat your co-worker's.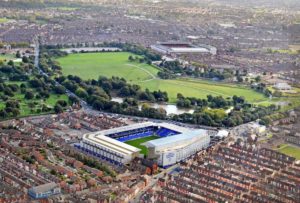 Source: www.liverpoolecho.co.uk
Liverpool is home to two of England's traditional powers – Liverpool and Everton – with their stadiums just over 1 mile apart (as seen in the image above).
The stadiums for neighboring Spanish clubs Sevilla and Real Betis are 2.42 miles apart in Seville.
Glasgow's Celtic and Rangers are 2.67 miles apart.
For River Plate and Boca Juniors – who met in the final of South America's most prestigious club tournament Copa Libertadores in 2018 – are 8.76 miles apart in Buenos Aires.
Could these types of rivalries happen in NISA?  Absolutely.  Clubs that make a claim to being a city's #1 club do it on the pitch by winning a derby, not by asking an administrator for exclusive rights to a 40 mile radius.
4. Low barriers to entry
If you want to own a professional soccer team in the U.S., the expansion fee alone for one league requires an eight figure check and the other a nine figure check. Relatively speaking, NISA will have low barriers to entry and clubs or investors interested in joining can be assured there is a pro soccer alternative that is committed to no entry fees.
Why no entry fees?  NISA wants clubs to invest in modular stadiums for their communities, establish academies, and participate in the global transfer market.  These are better places clubs to spend their money instead of entry fees.
5. No Territorial Rights
NISA seeks to be an association of inclusion. Too many problems arise when membership is an exclusive opportunity awarded to the highest bidder. Rather than granting exclusivity to one franchise in a market and forever locking out other clubs from professional soccer, NISA will keep the door open to everyone.
A rising tide lifts all ships. More fans drives more discussion, which drives more interest. NISA wants debate, passion, rivalry, and to build tradition. NISA is not going to rob communities and clubs of these opportunities simply because they did not get out the check books first or fast enough.
6. Clubs Own
When clubs decide to join NISA, they become shareholders.  NISA is owned by clubs, governed by clubs, and for clubs.
NISA is an association of clubs that have a higher degree of self-governance than what is typical of a centralized power structure that leagues with franchises have.  League rules are created, implemented and enforced by a league head office.  For example, in other professional American soccer leagues, intellectual property is controlled by leagues.  Clubs in NISA own the rights to their intellectual property because it is in the best interest of NISA clubs.
In the association of leagues and clubs that NISA is developing, clubs and the communities they represent have an important voice in what happens throughout NISA.
7. Fan ownership
The NFL's Green Bay Packers have a waiting list to own a piece of the team.  Soccer clubs in Germany's top division, the Bundesliga, require clubs to be 51% fan-owned. England is home to over 100 supporters' trusts.  Fan ownership is not new to professional soccer, but it remains a foreign concept in American professional leagues. That is until last Spring when Chattanooga FC broke through that barrier in a major way. If Chattanooga FC's recent raise of $800,000 from over three thousand new owners (and Detroit City FC's 2020 over $1 million raise) is any indication, there is a strong appetite for fan ownership in our country.  While NISA does not require fan ownership, the league office advocates for it during expansion conversations, while providing resources to assist in making the dream a reality.
8. Solidarity payments
Solidarity payments are a percentage of a transfer fee that goes to a club that is involved in training a player from ages 12 to 23.
For example, Christian Pulisic's transfer fee to Chelsea this year would have netted his youth club PA Classics around $730,000.
NISA believes in solidarity payments because (a) it is fair and the right thing to do and (b) developing American players is one of the key reasons for NISA's existence. Money from solidarity payments can help youth clubs really grow the game.
9. Pro Academies
There is a reason that a number of massive European clubs are setting up academies all over the country. To borrow the title of a reality show, America's Got Talent.
NISA clubs are committed to developing local players and that starts in professional academies. Whether it is for the club's Starting XI or as a platform to a professional contract overseas, part of the reason NISA exists is to develop American players. Investing in professional academies is one-way NISA is committed to creating and supporting opportunities for American players.
10. Meritocracy
An organized open system with independent clubs in markets no matter their size is the identification of a gap and the plan is for NISA to fill that gap. Based upon a foundation of inclusion and sporting merit, communities with NISA clubs will see a quality team on the field and the drama that soccer is known for will be seen at the top and bottom of the standings where games will matter.