Chatting with . . . Galen Riley
By NISA Nation Staff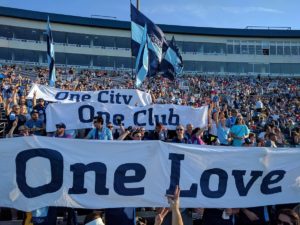 Source: https://twitter.com/chattahooligan
On Thursday, August 15, NISA announced the league's acceptance of Chattanooga FC, Detroit City FC, and the Oakland Roots into the Association. With each club comes a unique identity and culture. To learn a little more about the ethos of one of those clubs, NISA Nation staff connected with Galen Riley, a member of the Chattahooligans social media team. For our interview, Galen answered as the voice of the guy behind the @Chattahooligan Twitter account, but it should be noted that his responses are not necessarily representative of the entire group.
The responses have been lightly edited for clarity.
Galen, when did you get involved on the Chattanooga soccer scene? When did you join the Chattahooligans?
I went to a few matches during the founding 2009 season at the insistence of a co-worker. I had never been to a live soccer match before CFC and I wasn't much of a sports fan.
During that phase, I sat a little bit closer to the supporters section each match, and found a full time home there in 2010.
For those of us who do not know the history of the Chattahooligans, can you tell us about the group's genesis?
I wasn't a founder, but my understanding is that a group of friends saw a news article that a team was forming and decided to form an organized group. Their only request before the first match was to not be asked to sit down. The rest is history!
@Chattahooligan is one of the most recognized supporter voices in American soccer. What are your goals with the account? What do you see as social media's role in developing a culture around a soccer club?
I'm flattered that you think so.
The roots of Chattanooga FC are in the National Premier Soccer League, a summer amateur league that lasts about 3 months. Because the season is so short, The Chattahooligans have to be intentional when it comes to maintaining the community we've built during the long offseason. We do social meetups, charity work, parades, a big fall camping trip, holiday parties, and more. One element of that is regular communications to keep our Chattanooga neighbors informed.
As it turns out when you are extremely online, there's so much conversation around soccer, American soccer especially, that it's irresistible to not chime in on. We think our community has some good ideas, so we put them out there. Over time, we've grown an audience, built a platform that we can speak from with authority, and, most importantly, forged a number of relationships- with other supporters and media figures -that have been beneficial for our club.
There's also an interesting demographic at play. Chattanoogans, as a population, don't use Twitter as much as they do other social media sites. Less than half of our Twitter audience is local, so we tend to use Facebook to communicate with folks at home and Twitter as a platform to talk to the soccering world. Our accounts on each site have a different voice and tone, as does our Spanish language account @LosCFCHooligans, to various effects. For example, the Prideraiser.org project, for example, was born and is successful only because of the wide audience and credibility of our Twitter account.
The Twitter account can be pompous, professorial, or humorous, depending on the need. I believe we've created a powerful voice to not only tell the story of the Club that Chattanooga Built, but also to participate in the broader American soccer conversation.
In January, Chattanooga FC made waves when they launched a crowd-funding campaign. Were you aware that the club was pursuing such an endeavor? What was your reaction when you found out?
The supporter ownership initiative was telegraphed by our ownership group- first public pontification and then it seemed like there was real effort being invested into finding a solution around the time of the Summit for American Soccer in March 2018. Supporter ownership was a discussion topic in the room that day, and it was explicitly mentioned in the joint statement published subsequent to the summit.
https://www.chattanoogafc.com/news/summit-joint-statement/
My reaction at the announcement event was, of course, to pull out my wallet.
Over $500,000 worth of shares were sold in the first month. Were you surprised by the success of the campaign? What was going through your head as the campaign launched?
We thought it would be either an embarrassing flop or a blockbuster success, and nothing in between. I'm relieved to see the latter outcome, and humbled that so many people, both in Chattanooga and around the world, bought into our club. It means that we are doing something remarkable, something people want to be a part of. Now that Chattanooga has navigated the legal framework and solved the implementation details, I hope that a hundred other independent American clubs follow suit and are just as successful. I know that I'd buy a share of a few of them.
What is your favorite memory as a member of the Chattahooligans?
I think the readers want me to spin a tale of the roar of the crowd after Samuel Goni's 87th minute game-winning header in the 2016 playoffs when I abandoned the supporters section and was standing on the wall of the stadium at the halfway line trying to get the rest of the fans going, blood still pouring out of my leg from slipping on the wet metal bleachers on the way over. (I still have a scar.) But I think there are a number of other memories that are even more important- the first time a kid asked for a photo with me when I was walking to lunch during the work week and posed giving her best screaming "soccer face" (my signature move as a capo is looking…intense), when Prideraiser crossed $100,000 raised, or when I introduced two folks at a tailgate who later went on to get married and have a baby. All of those moments, and countless more like them, tell a story that what we're doing here with CFC is meaningful in people's lives.
What are your hopes in terms of Chattanooga FC's move into the National Independent Soccer Association?
First off, a big shiny trophy that says "Champions" on it.
And I think we all want to see more of what we have already- a sustainably growing, community-first club that calls the hearts of the people of Chattanooga its home even before it does the stadium. A longer season will give the club more opportunities to help people make wonderful memories and make a positive impact on our city.
Beyond that, I'd love to see a healthy group of independent clubs emerge, survive, and prove that the model is possible.
What community/market that does not have a NISA club, would you most like to see join the Association?
I would love to see some of my frenemies from all over at a tailgate or on the pitch when they're ready and it makes business sense to expand beyond summer league. In no particular order, I am a big fan of what they're doing at: Asheville City SC, Greenville FC, AFC Mobile, Kingston Stockade, Little Rock Rangers, FC Buffalo, Cleveland SC, Minneapolis City, Tulsa Athletic, Fort Worth Vaqueros, Nebraska Bugeaters FC, Himarshee FC, Motorik FC Alexandria, and San Francisco City FC. (I know I forgot someone and I want to apologize profusely for the slight.) And somebody tell Peter Wilt to come back home and bring Forward Madison with him.
I also want to see a women's league full of healthy pro clubs. I just bought a membership in supporter-owned Lewes FC in England after learning about their "Equality FC" commitment.
What are you most excited for when it comes to Chattanooga FC's move into NISA?
I think that we are all excited about playing more matches with like-minded, community-first clubs that care about every element of their product. Those clubs will push CFC to be its best self, both on and off the field. We just want a place to play. (Feel free to use "A Place to Play" as the title of a pitch presentation to perspective clubs.)
Bonus: Finally, and I can't wait for this, what is your position on promotion and relegation in US Soccer?
I'm still out on that one. Doing my research. Taking the temperature. Feeling out the zeitgeist. You know how it is.