Interview With .  .  . Christian Franek
By NISA Nation Staff
On August 19, 2019, The Breakers AFC of Palm Beach announced they were seeking a lead investor in order for their club to meet US Soccer Federation's Professional League Standards.  The goal is to have professional soccer in a passionate soccer area and join some of America's leading independent clubs in NISA in 2020.
Christian Franek is the club's current General Manager and is leading the charge to find interested investors that share the vision for pro soccer in the greater West Palm Beach area and believe in the club's philosophy of fan ownership.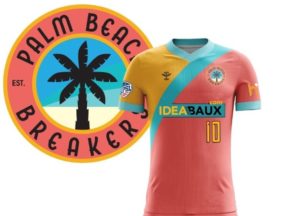 Tell us about the genesis of Breakers AFC and what makes the club unique in the American soccer landscape?
The Breakers AFC was originally founded and began play in 2017 as the fan-owned "Gold Coast International AFC", or Gold Coast INTER. Towards the end of 2018, however, we started experimenting with different names and colors, and with the help of Icarus FC, we came up with an identity that really seems to best represent our community and its residents. And the interest generated by our new crest and kits has spanned the globe, for which we are very grateful. 
Probably the most unique aspect of our club, especially in the United States, is being fan & player-owned. It's a concept that is embraced almost everywhere else in the world, but is just a bit too foreign a concept for most people running any type of sports club in America. It is a great way to let people, whether players, coaches, or fans, have their opinions and voices be heard on the bigger issues affecting their club. It is a connection that cannot be overvalued. Other than that, our extremely colorful kits seem to have drawn many local, national, and international fans of the game to our club. Very thankful for that and Icarus FC.
What is your role with the club?
I am currently the Club General Manager, so I just try to keep everything as organized as possible, with numerous forces pushing and pulling in every direction, as well as do what I can to promote and market our club on social media and in our community.
Originally, back in the summer of 2017, I actually did what I could to play on the team, but ultimately, it was about starting a club, and we had a great group of guys who bought into the vision and went on to win two championships in the local competitive men's league.
What are the long-term goals of the club?
Greater West Palm Beach & the Palm Beaches really is a great place full of great people, many of whom consistently rank in the Top 10 for viewing soccer, whether watching the United States National Teams or European leagues (specifically the Premier League in England), and it is way past time for us to have our own professional sports team and soccer club. So the long term goals are to continue building The Breakers AFC into the professional club that successfully, on and off the pitch, represents our community and our people. Then we will see where that success takes us. But based on our experience and local interest, things look quite good with the right investors and fan involvement.
What are the qualities that you are looking for in a lead investor?
Great question. Obviously meeting the minimum professional league standards, as set by the U.S. Soccer Federation is a quality that we must have, but being fan-owned, and continuing to be at least partially fan-owned will be a big consideration as well. So we almost assuredly must have investors, and a lead investor, that appreciates the value of fans. Our fans should not be viewed or treated as merely "guests" or "customers" or "consumers", because many will be owners. And even for the fans who are not owners, they are the life-blood of our club. The Breakers AFC cannot be successful, or even exist, without our fans, so that should never be forgotten by anyone associated with our club, lead investor or otherwise.
How do you plan to incorporate fan ownership into the ownership model for the club when it transitions into the professional ranks?
Right now, we use a trust model, where fan-owners make a financial commitment, annually or otherwise, and then are provided voting rights. At a professional level, it will probably be incumbent upon us to move to a shares model similar to what Chattanooga FC created and offered this past year. Not only a more clinical ownership model, but also a great way to fundraise with Chattanooga FC raising nearly $900,000 with their stock offering.
What do you believe makes West Palm Beach such an attractive market for professional soccer investment?
Several forces point to Greater West Palm Beach & the Palm Beaches being an amazing market for pro soccer:
1) Youth soccer is and has been incredibly successful in the area for years, not only in participation, but in results and achievement. So there are many soccer savvy players, parents, and other fans in our community. We want them to embrace a team, a club, a game, and an experience that can inspire them as well as bring them together each match day or night.
2) The number of semi-professional and amateur clubs/teams in the area seemingly multiplied overnight. Two years ago, anyone would have struggled to tell you if there was a semi-pro club here, much more the name of it. Now there are tens of clubs throughout Palm Beach County, Martin County, and St. Lucie County that provide a level of soccer competition that will be fantastic feeder clubs to our professional option. And we plan on working with all of the local clubs to ensure local players receive as much opportunity as possible to represent their greater community. Nothing creates the kind of pride that playing for your home team does.
3) The soccer viewing numbers for West Palm Beach are kind of off the chart great for what might not be considered a big market. TV audiences locally for World Cups, men's and women's, and the Premier League routinely are listed as Top 5 and Top 10 in the country, which points to a hunger for an authentic professional soccer club and soccer match interaction that could easily end up being one of America's best success stories for a "small market" (that hovers around 1.5 million in population).
West Palm Beach consistently has some of the best television ratings when it comes to professional and national team soccer matches. Why do you think that is? What do you think that says about the market?
Ha! I addressed that earlier, but in a nutshell, it says that Greater West Palm Beach and the Palm Beaches are ready for professional soccer, and an investment our club and what we can bring to our community and its people, should be a worthy investment well into the future. Let's build a successful professional club and organization that fans can have for generations!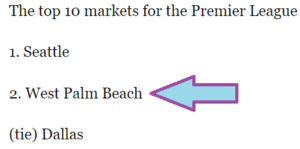 Source: Washington Post (top u.s. tv markets in NBC's first two years of coverage)
What is it about NISA that attracted you to the association?
Interesting enough, I was on a conference call with Peter Wilt, one of the co-founders of NISA, about a year ago discussing the possibility of fan-ownership in a new league. That was exciting and refreshing, as the federation kind of frowns on the idea of fans owning clubs or fans being involved as anything other than customers. But if anyone looks at examples across the globe, including some of the biggest and most successful clubs in the world, clubs have to embrace fans and supporters as much more than an open wallet. A committed fan that feels respected will invest a hell of a lot more of their time and energy and money into their club than one that feels they are just a commoditized data point. NISA seems to understand that and is fostering the right kind of clubs to provide an authentic experience so far not provided by professional soccer in America.
What do supporters of the "Dudes" have to look forward to in the near future?
We are continuing to perform and achieve in the South Florida region in multiple competitions. This summer, we won the 2nd Annual Gold Coast Community Shield, this coming Wednesday our All-Star players will compete against Turks & Caicos in the inaugural Copa Floribbean match, and we look forward to competing in the upcoming 2nd Annual South Florida Champions Cup, as well as in the Florida Gold Coast League. We stream our matches regularly, so we hope people will follow us on social media to keep track of us and when they can watch our matches live!
Other than that, as much as possible, we will keep everyone updated on The Breakers AFC going pro with NISA!!
What can Breakers AFC supporters do to get involved?
For now, please make sure you are on all of our social media, @TheBreakersAFC on Facebook, Twitter, and Instagram. Then you can get involved in the conversation, view what we are working on, purchase kits/jerseys/supporter gear, and otherwise help us find the investment needed to get our professional club aspiration with NISA on track and building momentum. Anyone can DM us or shoot us an email at PBIBreakers@gmail.com, and we hope they will!
Find us at @TheBreakersAFC on Facebook, Twitter, and Instagram. Get involved, and….
Come On The Breakers' Dudes!
#COTBD
#TheDudes
#BreakTheMold
#CatchTheWave
#ForeverPalmBeach