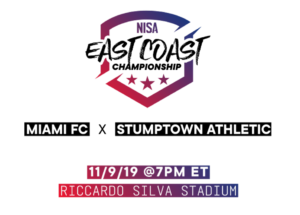 Stumptown Athletic And Miami FC Tangle for A Title
By Justin Hanover, Communications Director Atlanta SC
The top two teams in the Eastern Conference, Stumptown Athletic and Miami FC, will battle on Saturday, November 9th at Riccardo Silva Stadium in Miami for the NISA Eastern Conference Championship and an automatic berth into next season's playoffs.
Stumptown Athletic is a club in its first year of existence led by USL Hall of Fame Coach, Mark Steffens. The Huntington, New York native coached the Charlotte Eagles from 1997-2014. Steffens was most recently an assistant for the Charlotte Eagles women's squad before being coaxed into being Stumptown Athletic's first head coach by Casey Carr, the club's President and General Manager.
Miami is coached by Paul Dalglish. The 42 year old has played all over the world including the English Premier League, the Scottish Premiership and in Major League Soccer, where he won the MLS Cup twice as a member of the Houston Dynamo. Dalglish has now been coaching for 10 years, most recently with the Ottawa Fury before moving to Miami FC in 2018.
The boys from North Carolina finished their inaugural season with a 4-0-2 record on 12 points bested only by Miami FC's 14 points at 4-2-0. Both clubs have NISA Showcase friendlies under their belt. Stumptown drew twice with Chattanooga FC, 2-2 and 0-0 in mid October while Miami FC's last match was a home thriller on October 26th, defeating the Oakland Roots 3-2 thanks to a Miguel Gonzalez brace and a Shawn Chin winner in stoppage time.
Miami FC has been the gold standard everywhere they have played. They have won back-to-back NPSL Championships, picked up eight trophies over the past four years and currently hold a 19 match unbeaten streak (17-2-0). Furthermore, they are 28-2-2 in their last 32 contests.
These teams met twice during the regular season with Miami FC prevailing both times, 2-1 at Barry University on September 22nd and then six days later, 2-0, at CSA Ortho Carolina Soccer Complex.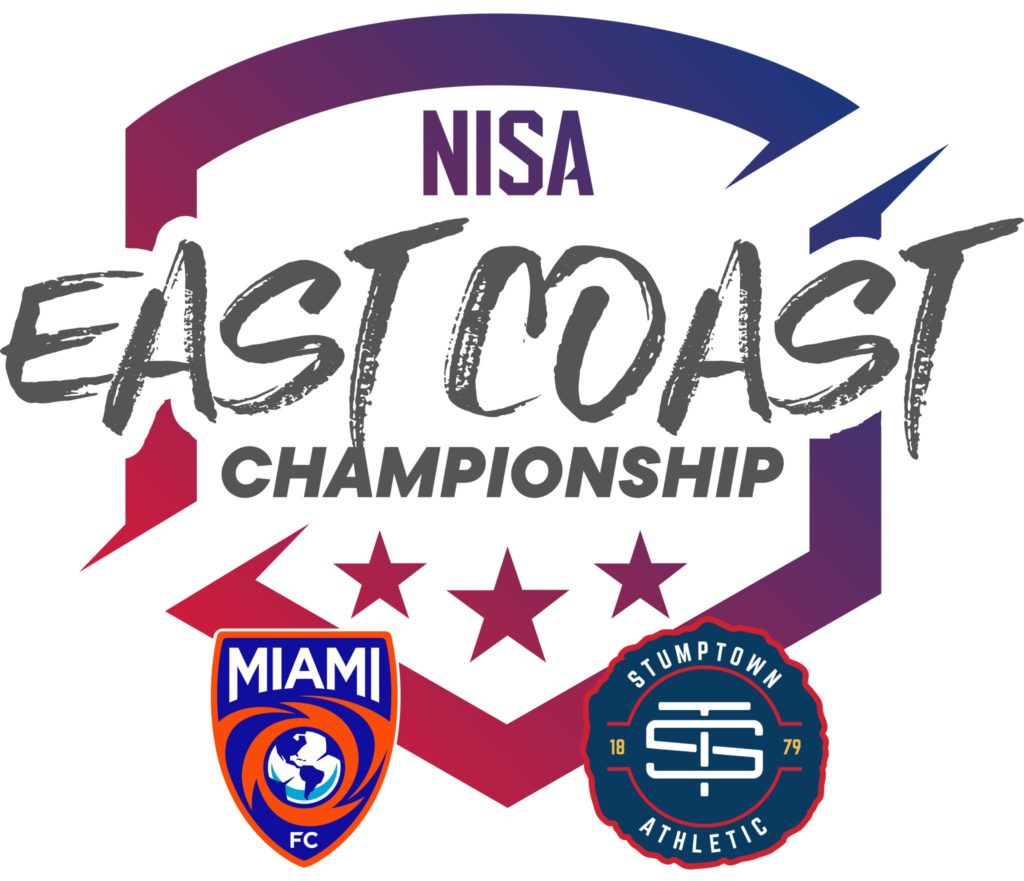 Players to watch for Stumptown Athletic:
Michael Binns– What a monstrous performance Binns pulled off in that 3-2 victory over Atlanta SC on October 25th. With all hope seeming to be lost, as Stumptown Athletic trailed 2-1 late in the match and needing a point to earn a berth into the final, Binns played the hero as he took it upon himself to will his team to the Final. Seemingly out of nowhere he earned his brace with a 35 yard blast in the 82nd minute sending the home faithful into ecstasy. A draw would have done the trick but teammate Joao Gomiero da Silva tacked on a goal at the death in a 3-2 win, setting up a third chance with Miami FC. Binns has played on the Jamaican Senior National level and on the youth level.
Donald Benamna-There are not many players out there with the speed of Benamna. The former Little Rock Ranger has made his presence felt in a major way here in NISA competition. He would score in the opener against Atlanta SC and is a handful for any defender. The forward has two goals on the season and recently played at the national team level with his Central African Republic. Benanma was not able to play in the last match and all ears will wait to hear about his status for the final.
Jalen Brown-Brown scored the franchise' first ever goal in the 3-1 victory in Marietta, Ga against Atlanta SC. It came in minute number 11 as the talented outside midfielder broke in all alone on the right side and beat the helpless Atlanta keeper, Jordan Bell, to the near side. The hard working and selfless Brown has added an assist to his ledger and has played almost every minute of every match. He was drafted 38th in the MLS Superdraft by NYCFC and came to Stumptown by way of the New York Cosmos.
Tate Robertson-The central midfielder is another one of those pieces that can be relied on game in and game out. In that do-or-die finale against Atlanta, and with Stumptown Athletic missing some key cogs, it was Robertson who was cool, calm and collected in the center of the pitch. He prides himself in being clean on the ball and seems to always be in the right place at the right time while capable of doing a little bit of everything. Robertson is a product of Bowling Green University and was a USL PDL Best XI last year while with the Dayton Dutch Lions.
Sergio Campbell-This big strong center back has a wealth of experience. He was the 19th player taken in the MLS Superdraft and is a two time Caribbean Cup winner (2010 and 2017). Campbell has played on the Jamaican National Senior Team along with stints on the U-15, U-17 and U-20 squads, captaining the latter. He came into that last match very late to help preserve the victory so like Benamna, his status is certainly one to watch.
Richardo Israel- With Campbell out most of that last match a ton of pressure fell on the shoulders of the defender, Israel. Ironically Campbell and Israel grew up playing together in Jamaica and are a dynamic duo in the back. But without his mate for the majority of that last match "Chardo" played in the middle and proved his worth once again.
Players to watch for Miami FC:
Where do you begin in a team that has so much talent and depth? One can almost pluck out any player from Coach Dalglish's side and rationalize their ability to be a notable key to this match. But in the end, Dylan Mares truly is the one above all else. Oh and by the way Callum Chapman-Paige just came back from injury last week to help the back line, making this team "fully fit again" according to Miami FC's media guru, Kartik Krishnayer.
Dylan Mares-The attacking midfielder and former Indy 11 star has been producing for Miami FC since day one of his signing. The numbers are outstanding beyond belief (5 goals and 3 assists in 6 NISA league matches along with 12 goals and 10 assists in 22 matches this year) and the leadership is second to none. Mares can beat you from anywhere on the pitch and is a guy that can be trusted by all of his teammates at anytime. The 27 year old is a former NASL Best XI and a guy that must be marked. Mares is the Lionel Messi of NISA in that he can make the big pass that leads to a huge goal or can do it all himself, if need be. He scored the go-ahead goal on a sensational free kick to defeat the Cosmos in the 2018 NPSL Championship match helping to earn himself the MVP award.
Miguel Gonzalez-Ho hum, just another brace for Gonzalez in that last match against the Oakland Roots increasing the tally to 4 in NISA competition. This natural goal-scorer now has a franchise equaling 21 goals for a single-year total tied with Stefano Pinho (2017) along with 7 assists. Before his tenure down south, Gonzalez scored 17 times and dished out 7 assists playing for the Colorado Springs Switchbacks and also added 10 goals for the Oklahoma City Energy in a pair of seasons (2017-2018). Leave him open and he will make you will pay!
Mohammed Thiaw- Just like Gonzalez, when you need a big goal Thiaw seems to be up for the cause. He recently netted three goals in a two match span against Atlanta SC and now has scored 14 goals to go along with 10 assists in this calendar year. The big 6'2″ forward from Dakar, Senegal was selected by the San Jose Earthquakes in the 2018 MLS SuperDraft and can play anywhere on the forward line.
Ariel Martinez-Martinez is a well decorated, 33 year old Cuban veteran who is incredibly solid and crafty. When I asked one Atlanta SC player what Miami FC player gave him the most trouble the answer was an immediate, "Number 10, Martinez". He went on to say that if you get right on Martinez, he will beat you and if you give him room, he will beat you. Martinez, who now owns the franchise mark with 22 assists (6 already in NISA play), has scored 11 times for his home country including netting a hat trick in the 2013 CONCACAF Gold Cup. He has scored 9 times to go along with 12 assists in 2019.
Brenton Griffiths- Just like Stumptown Athletic, Miami FC has a big Jamaican anchor on their back line. The 6'3″ 28 year old is in his first season with the orange and blue after helping lead Reno 1868 to the Western Conference Semifinals in 2018. Dalglish has rotated bodies in and out of the defense but Griffiths seems to be the rock solid constant. He has also scored two goals in 19 matches this year.
Lloyd Sam- Sam is probably the most experienced player in all of NISA, if not in the entire United States of America. The 35 year old started his career in England at Charlton Athletic, making 119 appearances, before moving on to Leeds for three years. He came over to the states and was a mainstay for the New York Red Bulls scoring 20 goals before leaving for DC United. Sam is listed as a forward but is so versatile that he has actually moved to the back at times this season, including having the assignment of marking Atlanta SC's lightning fast Prince Saydee. I guess age really is just a number for Sam!
Key Matchups
The Miami FC front line vs. Stumptown Athletic's back line:
It is a daunting task for any side on any level to deal with Mares, Gonzalez, Martinez, Thiaw and Dario Suarez. This explosive orange-and-blue offense boasts mind boggling numbers as evidenced by the 68 goals and 42 assists between just these five players. Miami FC is a side that can score at any moment if you are not on your A game. They are the full package, from size to strength to finishing to everything in between.
Stumptown Athletic has kept a clean sheet in only one match this season and that was the nil-nil draw with Chattanooga FC. Certainly there is talent with the very capable play of Israel and Campbell and Marcel Berry and Gabriel Silva among others, but after already allowing four goals in the two match-ups with Miami FC, what type of adjustments can the visitors make? Can Campbell even play a full 90 minutes today? Will Coach Steffens play more defensive and park the bus a little bit as I anticipated against Atlanta SC? In the end, though, that defensive strategy did not seem to ultimately be the case despite only playing with one forward in Lamin Suma. Stumptown Athletic attacked against Atlanta, even when the match was scoreless and even when up, 1-0. So it may be a situation where the visitors throw caution to the wind, trust each other and just go for it. However they decide to play it will be interesting for sure.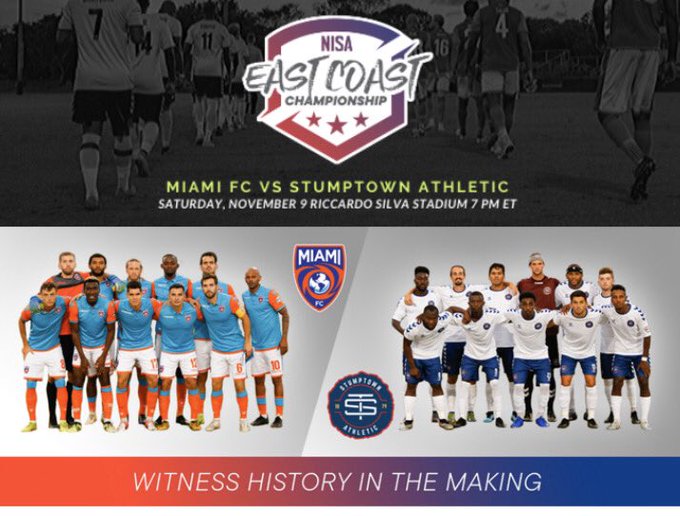 Goalkeepers:
Which goalkeeper will step up? Which goalkeeper will even play?
In doing the play-by-play for Atlanta SC, and watching all four meetings with both of these clubs, I have seen four different men in between the pipes. I guess one can say that both clubs feel comfortable enough with more than one goalkeeper. But does that really mean that neither feels comfortable enough with any goalkeeper? All four goalkeepers are certainly of quality but with that said we have seen some issues in this key position.
Stumptown's Ian McGrane was solid in that last meeting against Atlanta but he also made a major mistake in the back, holding onto the ball too long, leading directly to a Nazeem Bartman go-ahead goal. The mistake could have been devastating, costing his team a place in this match, if not for Binns and his heroics.
Meanwhile, Miami FC can no longer rely on a superstar like Daniel Vega in goal as they had for a few seasons. The man deemed "The Wall" by former play-by-play man Bruce Silverman is now with the San Jose Earthquakes in MLS and things are not the same. Mark Pais, who has started and played in 5 of the 6 NISA matches and 21 overall for the year, had a major gaffe in the last match against Oakland pretty much allowing a dribbler from Jack McInerney to inexplicably beat him.
If one of these keepers can stand on their head, as they say in hockey, whether it be McGrane, Pais, Vincent Tasca or Bryant Gammiero that could give a major advantage for that side.
Mark Steffens vs. Paul Dalglish:
We have a couple of fantastic gaffers on the pitch in this one. Steffens hit the ground running with his first year side looking sharp within a month or so of training against Atlanta SC in that opening 3-1 win. He also swept that series without key contributors in the last match pushing all of the right buttons. Stumptown proved its worth against an experienced and very quality side in a pair of draws against Chattanooga FC. The one issue so far this season for the coach, though, has been against this opponent, Miami FC.
Dalglish's club has outscored Steffens' squad 4-1 in the two victories. In fact if not for the back-to-back draws against Atlanta, Dalglish and his boys would be riding a flawless 19 match winning streak instead of the current 19 match unbeaten streak. So Dalglish clearly has had the upper hand between these two in the first two meetings and pretty much against everybody else along the way as well.
But could this third time be a charm for Steffens and his squad?
There are two ways to find out:
1. Tickets to Saturday's match in Miami are available here.
2. If you cannot attend the match make sure to catch all of the action here starting at 7pm Saturday. Lee Ifans and Matthew Bunch will have the call.